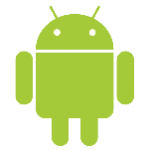 Today has been full of news about the rumored Google phone. Mashable writes about it here, here, here, here, and here. TechCrunch picks it up here, here, and here. Gizmodo has posts here and here. Engadget has it here. There are even posts on the Wall Street Journal and New York Times. This is a lot of news over something that only just now is looking to be a real device. It goes without saying that this is potentially a game-changing device, so it is not surprising that it has made this kind of stir.
Google itself has acknowledged a phone, but there has been no official word that this will be sold. According to Google's blog post, they have released a mobile lab to their employees. This is part of an "Eating our own dog food" campaign. For those unfamiliar with this term, it has become annoyingly propagated that you should use what you sell. It used to be described as a Ford dealer driving a Ford and what-not. This dog food thing is getting really out of hand, but that is beside the point. Google claims that this is an effort to test up-and-coming software on a mobile device. The rumors take over from here.
On all of the above links, all of them reputable sources, Google will start selling whatever comes from this "dogfooding" on Google's part. Rumors are further claiming that this phone will be sold unlocked, and by Google itself. A customer would have to purchase mobile service from their preferred carrier.
The news goes on to say what we have been hearing for a couple weeks now, that HTC will be providing the initial hardware. Google will of course run Android on the phone, and will have full control over the hardware/software specs. The potential to irritate current partners like Motorola has been addressed as well. This may or may not provide competition to the beloved Droid, as well as a number of other devices. While we are discussing rumor, this would be an ideal entry for AT&T who may be entering the Android market soon. There was speculation that the Sony Ericsson Xperia X10 would be the first AT&T Android phone, but as far as I am concerned, the more the merrier.
Currently the Google phone is going by the name Nexus. With all the hype that has been generated today, I hope that the rumors are true. I would love to play with the Nexus, and see how it changes the future of mobile phones. I will post again when some of these rumors are confirmed.
Tags: Android, Google, Google Phone