Of all the ways my wife and I have tried to keep our three-year-old in line this holiday season, Google comes up the winner. Readers of this blog will hardly be surprised that I am happy with Google. What they did this time however was to track Santa Claus around the world. For those who haven't seen the news reports and other blogs talking about it, click here to see where Santa is right now.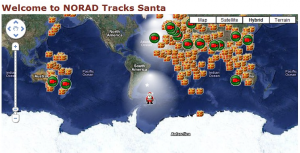 At the time of this writing Santa is approaching the south end of South America, a sure sign that he will soon be in Southern California. A number of other sites have done a similar tracking this year, including a couple iPhone apps. The Google one seems to have gotten the most attention. I have been tracking Santa since this morning when he left Russia for Kyrgyzstan. Like I mentioned before, this has been a wonderful tool for helping my son get along with his baby brother, listen to his Mommy and Daddy, and get into a general holiday spirit. Not that this can replace good old fashioned parenting, but a little help from Google was certainly appreciated this time around.
If Santa has already visited you, hopefully you got everything you wanted. If he has yet to come, good luck. Merry Christmas everyone.
Tags: Christmas, Google, Santa Tracker