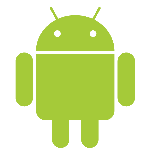 This is going to be a HUGE week for Google Android. First there is the impending press conference on January 5 at Google which everyone expects to be about the release of the Nexus One mobile phone. Motorola takes the stage next on January 6, with the announcement of a couple new Android phones. January 7 is the beginning of CES 2010, during which Sony Ericsson has promised to have plenty of Xperia X10s available for demo.
Let's start with the Nexus One. There have been rumors flying for the last couple months about this phone. Nobody disputed the fact that HTC was to provide the basic hardware. Everyone pretty much accepts that the phone will be unlocked. Some of the latest rumors seem to imply that T-Mobile will be offering a contract subsidy for the Nexus One, while the rest of us can buy it unlocked for substantially more money. However, it looks like if you want 3G, you might need to switch to T-Mobile, as only the Edge network on AT&T would be available. This was dismaying, yet there is another rumor that brings some hope. Mashable cautiously announced the possibility of being able to use AT&T's 3G network after all. I would hope that this is true, as T-Mobile seems to be catching all the breaks lately. Either way, we should be able to get away from rumor and conjecture after the January 5 announcement.
Motorola has caused quite a stir lately as well. Considering the fact that the Droid was billed as the first iPhone competitor it seems hard to believe, yet increasingly likely that some of the new up-and-coming mobile phones might be even better than the Droid. Gizmodo announced a possible phone for AT&T and another for Verizon for the upcoming CES. I read something about them announcing a day early, but I can't find the reference at the moment. I'll update this post when I find it. Either way, two new phones on top of the popular Droid could make things interesting this year.
On December 15, Sony Ericsson tweeted "Ok – CES looking good. We're in the Sony booth #14200 Central Hall. Tons of X10's to demo". Sounds good to me. Too bad I won't be able to make it to CES. If the pattern holds, we'll have a representative there this year though and I might have to send him with a video camera so I can see it up close. We'll see how that goes. I am really looking forward to seeing what the Xperia X10 will bring to the Android market.
Surprisingly, AT&T comes out a winner in most of these announcements. It would be nice if AT&T takes this windfall and makes something of itself. It finally got around to advertising about its 3G network instead of Edge, yet there still seems to be a lack of focus on actually building up the 3G network. This could be a critical year for AT&T's future, let's hope the right decisions are made.
Regardless of AT&T's possible stake in this week's news, the real winner will be Google. Android is ready to hit the main stream, and I am pretty excited about it. Whether I end up with a phone from Google, Motorola, or Sony Ericsson, I think this looks to be a good year for Google Android.
Tags: Google, Google Android