Well, it's official. AT&T is finally getting Android. Looking at the screenshot below, AT&T found a great way to get me to give up my email address to them. I signed up for their mailing list promptly. Click on the image below for a larger version.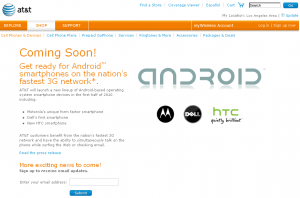 In a press release today from Las Vegas AT&T announced that it will release 5 Android devices in the first half of 2010. The brands involved are Motorola, Dell, and HTC. The "unique form factor" of the Motorola phone referenced by AT&T is likely the rumored backflip phone everyone has been talking about. Dell mini is an interesting addition as well. Hopefully HTC will bring a Nexus One-esque version to the table, but it is unlikely. One can always hope though.
Android was only part of AT&T's announcement, though on this blog it was the most important. AT&T is attempting to bring the app stores for each OS into the AT&T store. On top of this it created a website to help developers make devices for AT&T's networks. In the future, developers will be able to create apps for AT&T's U-verse TV among other things.
Hopefully this doesn't turn out to be too little too late. It would be nice to see AT&T pull of something great. Let's hope it does.
View the full press release here.
Tags: AT&T, AT&T Wireless, Google Android