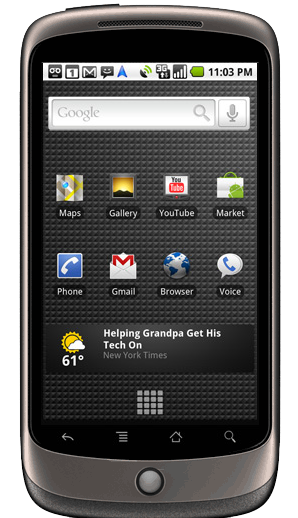 Google formally announced the Nexus One today. It has a lot of the features that we already knew were coming, but there were a couple of interesting additions. The Nexus One is the first in a line of what Google calls "Superphones". These are essentially palm computers, or palm Netbooks perhaps. Google's web-centric apps library is perfectly suited for a phone of this caliber.
I was able to watch the press conference unfold vicariously thanks to the folks at AndroidCentral and Engadget.
Engadget's version has pics, so be sure to check it out.
Google started the conference by talking about the evolution of Android, and the various phones that have featured it. Among the phones mentioned was the Xperia X10 I have been talking about a lot lately. Google maintained that it remains proud of these early versions, and that the Nexus One is not intended to make them obsolete. Google wants the Nexus line to begin a new era of smart phones, specifically of the Superphone variety.
Google began the conference by defining the word Nexus. "A point of convergence." This is fitting, considering what Google is going for here. It wants the Nexus to be seen as coming out of the early versions of Android.
Hardware specs:
1Ghz Snapdragon processor from Qualcomm
512MB of RAM
3.7 inch WVGA display with a trackball
5MP camera with LED flash
3.5mm headphone jack
A2DP Bluetooth
Proximity Sensor (so you won't turn off the phone with your face while talking)
Thin, comparable to a standard pencil
Software Features:
Android 2.1 OS (Eclair upgrade)
Android 2.0 apps will work on 2.1. Other Android phones will get the 2.1 upgrade soon.
Google Maps for navigation
Search by voice. Any text field, including Twitter can be filled by voice command.
Google Earth for Android coming soon. Works with voice search
Multi-Color display can distinguish between calls and email
Background syncing of photos, and 1-touch uploading to YouTube
Wi-Fi b/g compatible, tethering coming soon
The official Nexus One website now live: google.com/phone. As expected, it is unlocked at $529, T-Mobile will subsidize it for $179. According to the website, Verizon and Vodafone will get it soon. It looks like the Droid (or other Motorola) might be sold soon on the same website. Nexus One will be available on Verizon in the Spring.
The Nexus one will be coming to more carriers in the U.S., presumably including AT&T. The carriers are responsible for handling the data though, which is supposed to be incentive to upgrade. We'll see how that goes. The Nexus One is designed to be the first of many new "Superphones". Google says it wants to offer choice, not competition, and to promote innovation.
When asked about the lack of a keyboard, HTC's CEO Peter Chou reiterated that this is the first of many phones. HTC wants to design phones that people want. This one focuses on the screen and voice options. It sounds like a keyboard version might be coming soon.
The video shown at the conference is already up on YouTube.
The question and answer period kind of devolved, and was less interesting than the video. This phone is not "THE" Google phone, but is A Google phone. Google repeatedly said it is not in the hardware business, and that it's partners would be making the phones it sells. While Android 2.1 will be available on existing phones, Google doesn't want to get bogged down with backwards-compatibility, which is understandable. Based on the way Google was talking, even the Nexus One won't be completely safe from becoming obsolete. I think that will take some time though.
Google presented a nice, solid phone with a substantial amount of power. There will be a software upgrade to enable use of an SD card, so early adopters need to settle for the included storage. I am pretty excited about the voice tweets and email. That will make things interesting.
If you are a T-Mobile customer, you lucked out today. T-Mobile just went into the high end of the 3G spectrum, just in time for the Nexus One. I am sure that Google's phone was adequate incentive. Maybe AT&T will figure it out and follow in T-Mobile's footsteps.
Google featured a rep from Motorola, who was stuck in traffic until the end of the Q&A, presumably to further the argument that Google isn't stepping on its partners. Both HTC and Motorola seemed happy with the arrangement.
Google has given us lots to digest. I am sure this is only the beginning of the hype phase, especially with CES starting soon. I will keep watching the Nexus One and keep you posted.
Tags: Google, Google Android, Nexus One