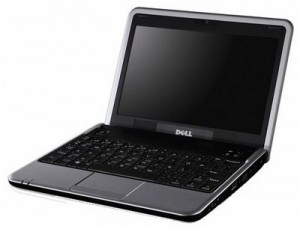 I have been playing with the idea of getting a netbook for the last year or so, and finally got my hands on one. I didn't get to pick this one out, so this review is based entirely on my experiences over the last week. I am testing out the Dell Inspiron 910, also known as the Mini 9. This is one small computer.
Here are some of the basics:
Intel Atom N270 1.60GHz Processor
2GB RAM
Windows XP Home
16GB Solid State Hard Drive
3 USB ports
Bluetooth
Wi-Fi
LAN
1.3 Megapixel integrated camera/webcam
The first thing I noticed was the ridiculously tiny keyboard. Typing is a nightmare. It took me more than 10 minutes just to type the above specs list (with markup code). The keyboard is by far the weakest link.
The Bluetooth software is particularly nice, however. Of all the times I have connected my cell phone to a computer, this one has been the easiest and the fastest. It also has the most features. I can do a number of different things from file-sharing to streaming music to the netbook.
I haven't had a chance to test the LAN, but nowadays they are pretty standard. Same with the Wi-Fi. I was able to connect to a couple different networks with no hassle. That is more of a Windows thing than the card, but it was worth noting.
One thing that bothers me a bit is how hot it runs. With a solid state drive one can expect a hot machine. It doesn't seem like there is any compensation for this heat though. I avoid using it in my lap whenever possible.
With the tiny hard drive and pretty much tiny everything else, I focused on Google for my apps. I had expected to do this with whatever netbook I ended up with, so this was nothing special. Google really is the easy choice when dealing with limited specs. Everything else is too heavy to be worthwhile.
All in all, this is a reasonably good computer. The keyboard is too big a liability for my purposes however, so I intend to move on in short order. As it is, the Dell Mini 10 is already out, but I think this Dell was all the experience I need with the brand.
If you are looking for a netbook, or even just a small toy for your down time away from home this is a decent option. I would be more inclined to use it as a first computer for my sons. They have small enough fingers to make it work. This post was done from the Mini 9, and it was quite the task. Like I said before, the keyboard is a bit of a pain. I am in the market for a better netbook, and already have one in mind. I will be posting about it soon