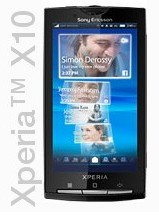 There have been rumors of the elusive Sony Ericsson Xperia X10 going around for a long time now. Some of the back and forth went something like this:
"It's going to T-Mobile"
"No it's going to AT&T"
"Maybe its going to both?"
As anyone reading this blog might guess, I have been paying attention to the entire saga, eyes glued to every RSS feed that might share the latest news. Well, as it happens, the latest news is that it is going to AT&T, and that it will arrive by May. According to Boy Genius Report (BGR) it is coming to AT&T for a subsidized price of $199. Needless to say that caught my attention.
AT&T announced at the Consumer Electronics Show (CES) that it would be releasing 5 Android phones by the first half of 2010. It mentioned by name Motorola, HTC, and Dell as manufacturers of these phones. As I said before on this blog, I hadn't seen any indication that HTC would be providing 3 of the 5 phones, as some have speculated/picked up on. I was holding out hope for Sony Ericsson being among the first 5. According to this rumor, it seems my theory might have merit.
One way or another, I am sure we will find out the details soon. AT&T announced a release date for the Motorola Backflip, which premiers on March 7. If that is the first date, AT&T is running out of time before June to release 4 more phones. Let's hope they opt for a sooner than later approach. Until then, I will keep my eyes peeled and report back once this rumor gains some legs or if it fizzles out.
Related Stories:
Tags: Android, AT&T, Sony Ericsson, Xperia X10