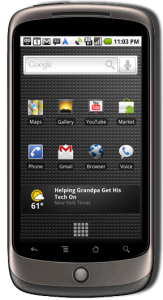 Most of the news I have been hearing lately about the Nexus One has been regarding one of two topics – the "poor" sales, and the impending arrival on Verizon. Today's news is a slight variation on this trend. It seems that while everyone was saying how terrible Google's sales have been, they were working in the background to release the Nexus One to a wider audience. At first glance it looks like Google gave Verizon a miss and went to AT&T. This is not exactly how it went, though that would have been entertaining. The picture below shares today's big news. It is a screenshot from Google's Nexus One page.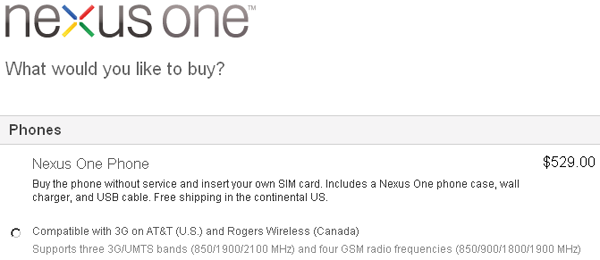 As you can see above, the Nexus One is now compatible with AT&T's 3G network. This is not to say that AT&T now has a Nexus One plan, but just that AT&T and Rogers users can now buy a Nexus One. I don't really expect this to be a huge boon for Google, but offering the phone to more users is always a good thing.
At $529 unlocked and all the negative press, it will be interesting to see if AT&T customers rally to Google. As much as I would like a Nexus One, I am still holding my breath for the Sony Ericsson Xperia X10. If it doesn't come to AT&T as rumored, I will start looking at the Nexus One again.
AT&T readers, let me know if you plan to pick up the Nexus One now, or if you intend to wait for an AT&T subsidy.