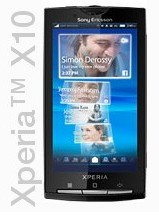 Engadget reported today that the Xperia X10 is coming to T-Mobile in the UK. My first thoughts went something along the lines of: T-Mobile? Again? I seriously don't understand how T-Mobile is scoring these huge scoops on the number 1 and 2 carriers in the US. My second thought was that perhaps T-Mobile in the US won't get it. I am not holding my breath though. It wouldn't make sense for it to go to the UK and not the US.
The Xperia X10 should be easily compatible with AT&T, so all hope is not lost. The rumored April/May US release is fast approaching. We will see one way or another which way this goes.
In the mean time, a quick look at pricing in the UK. With a two-year plan, T-Mobile is offering the X10 for free. The plan runs roughly $52/month. This is a great price! Free is always good, especially considering the hefty price tag attached to the X1 and presumably the X2. This bodes well for the AT&T rumor though.
If you have been reading this blog, you may know that the rumor referenced above is that AT&T will carry the X10 for $200 with a 2 year contract. If T-Mobile is offering it for free, perhaps the rumor was overpriced. I think Sony Ericsson could make these fly off the shelf with an AT&T subsidy that makes it free. $200 is still cheaper than buying the Milestone from Canada, and is far cheaper than the unlocked Nexus One, so I am really hoping this pans out. Until then, enjoy the Xperia for those of you in the UK, even if you have to wait until April to actually get it. Wish us some luck on this side of the Atlantic.
Tags: Google Android, Sony Ericsson, Xperia X10