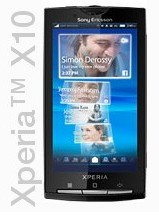 The release date rumors have been all over the board for the Xperia X10. The most heartening rumor was that it would be released by AT&T in April or May. Engadget has a new date from a "reliable" source that debunks the early dates. According to their post, the Xperia X10 will come in fiscal week 30 this year, which falls on the border of July and August.
There was no word on pricing, so hopefully the early number of $200 sticks. One interesting highlight for this later release is that it will be less of a wait to get the Android upgrade. If the September upgrade of 2.1 or newer is accurate, an August release would really reduce the wait for the better OS. While I don't want to wait until August to get an Xperia, it would be nice to have full Android functionality when I do get it.
The AT&T part of the announcement is good news. The late date is not. Let's hope the earlier numbers are more accurate. My question, though, is if this is released in July/August, how is AT&T going to come up with 4 more Android phones before June? AT&T's second Android device from Dell has not been released yet, and the other 4 phones haven't been announced yet. The clock is ticking, AT&T. Let's get some of these phones out to your customers.
Tags: AT&T Wireless, Google Android, Sony Ericsson, Xperia X10