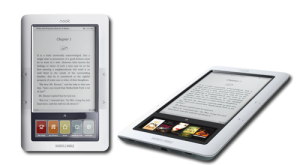 I was discussing my last post on the Nook with a friend, and it came to my attention that I could have added quite a bit to the review. There are a few more features that are worth noting: the e-Lending, checking out books from a library, and the mp3 player.
Lending a book to a friend is a good feature. Apparently there is a time limit though, so your friend needs to be able to finish a book in 14 days. Your friend doesn't need to have a Nook however, which is good. You can share with friends on a PC or Mac (with Barnes & Noble software), iPhone or iPod Touch, with Blackberry and other smartphones getting the feature sometime this year. An interesting thing that I picked up in the store is that Barnes & Noble oversold the e-Lending feature initially, and that the book publisher has a veto power that wasn't initially advertised. The only books available for e-Lending have been pre-approved by the publisher. It also looks like just as with real books, if you lend it out you can't read it until they return it or their time expires.
The library feature is also interesting. Again, I was told it was limited, and that the Los Angeles County library is the only one currently lending to Nook owners. I don't know if this means only L.A. has the feature, but I imagine that it is limited to metropolitan areas.
The Nook also features an mp3 player. This can be especially useful for books on tape (or CD) that you have in your home library. Load them up on the Nook and enjoy them all over again, assuming you know how to rip a CD. You can also listen to music of course.
There was a little confusion over the external memory when I discussed it with the Barnes & Noble staff. They said to use a Memory Stick, which I thought was strange considering it is Sony's product. I asked again for confirmation and they said it was the Memory Stick. Turns out it is really a Micro SD card. Big difference. I'm glad I wasn't in the market that night. Of course with 2GB of internal memory it probably wouldn't have come up immediately. It would be good for the staff to know the difference however.
It probably seems like I don't like the Nook much after this post, but it really is a decent device. I learned a lot about it and while it may not be my top choice, I think there are plenty of people this would be great for. It is a solid device, has plenty of features, and has a huge volume of available content. This device is sure to make a book-lover happy.
Tags: Barnes & Noble, e-Reader, Nook