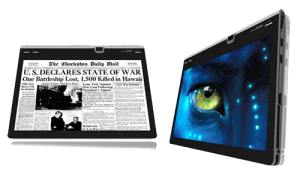 We have been going along for a while in this e-Reader Wars series. We have looked at some interesting products, from tablets to e-Readers to a combination of both. As the series is drawing near a close, some of the better devices will get their time in the spotlight. Among the most interesting devices is the Adam from Notion Ink. What Notion Ink would like to get across is that this is not an e-Reader or a tablet, but something new. That's why they named it the Adam. They believe it is the first of its kind. Let's look a little closer.
3.2MP 180° swivel video/still camera
NVidia Graphics
Dual-Core ARM CORTEX -A9 MPCORE Processor
1080p hi-def resoultion
10.1″ Pixel Qi display with transmissive, transflective, and reflective display modes; 10.1″ non-Pixel Qi display; capacitive touch panel with multi-touch
Specialized Android UI
WLAN – 802.11 b/g; Bluetooth 2.1 A2DP; WWAN – 3G HSDPA
Multi-Touch
Supports all major e-book formats
Two speakers, 3.5 mm headphone jack, microphone Jack and built-in microphone
Backside trackpad
USB 2.0; 2 HDMI ports; MicroSD slot; SIM Card slot; Docking Port
16 / 32 GB memory
This is a pretty impressive list. You can tell that they mean what they say about making something that stands out among the rest. We have looked at the Nook and Alex with their dual screen options, and will soon look at the eDGe with its dual screens, but this is the first all-in-one screen I have looked at. Imagine a full Android UI that also doubles as an e-Ink display. The Adam does this, and that is part of what makes this device stand out. You don't get any extra bulk to have the best of both worlds. You get it all in the size of a standard tablet.
The network connectivity is a good feature, but the other devices have similar options. Noticeably missing from the Alex description is Bluetooth though, which the Adam provides.
2 HDMI ports and USB are pretty cool. You can stream your high-def YouTube videos directly to your TV. My Vaio does this too, but for a tablet form factor this is pretty impressive.
It looks like the Adam took all the best features of its competitors and rolled them into a single package. Hopefully the price tag won't reflect this. As of yet the developer apps and Adam store are not live, so I will keep checking back to find out more. If you have been waiting for the ultimate personal device, this may be it. I will keep you updated on the Adam as information is made available.
Tags: Adam, Google Android, Notion Ink, Tablet