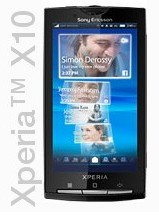 The Sony Xperia X10 has been all over the opinion boards these last couple of weeks. Now that seemingly every country but the United States has it now, some interesting developments have come to light. First, there was an announcement from Sony Ericsson about the Xperia's hardware being unable to support multi-touch. This immediately turned off a number of fans, but as I said before I don't get what the big deal about that was. Multi-touch is fun, but not really a deal-breaker for me. Today's news may bring some fans back into Sony Ericsson's camp.
Engadget reported today that not only can the Xperia X10 handle multi-touch, it is also getting a 2.1 update by September. In one post the bulk of the complaints against the X10 were diffused. Of course, this depends on the "insider" that Engadget's source referred to. Hopefully this pans out, at least so the X10 can get the credit it deserves.
The other big issue is the Android OS. Considering the wait, customers have been griping about Android 1.6 which would have been fine a year ago, but now is almost archaic. Well, it seems like the wait for an upgrade won't be too far down the line. September is relatively soon for a phone that started shipping in March. If AT&T ever picks up the X10 I won't have to wait long for the upgrade. One thing that gets ignored though, is that the Sony UI makes up for some of the shortcomings of Android 1.6. I certainly won't mind the 2.1 upgrade though. Now I just need to convince AT&T to get moving.
If you were on the fence about the Xperia X10, hopefully this helped. I can't wait to get my hands on the Xperia, and today's news is even more reason to pick one up.
Update:
Sony Ericsson (SonyEricssonNA) tweeted this morning (April 19) that

"As previously confirmed Xperia X10 will not support multi-touch. SE hasnt made an official statmnt saying MT is a core feature of the X10."
. So much for multi-touch. They didn't mention the 2.1 upgrade, so here's hoping that sticks.
Tags: Android, multi-touch, Sony Ericsson, Xperia X10