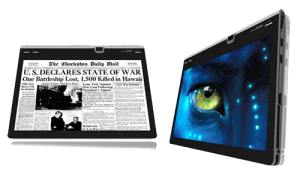 Last week Notion Ink left a blog post telling us that good news was coming. They left a cool video about the Pixel Qi screen in daylight next to and iPad and iPhone. We've been waiting for the good news since then, and that came today, or at least the blog post did.
First, Notion Ink wants to make it clear that the rumors about a November release for the Adam tablet are not true. Evidently everything is on track. Notion Ink just set up a new round of funding, and promises that things are moving forward smoothly.
The Adam is being split into two different products, aimed at keeping the entry price lower. The first is the one everyone knows about, the Pixel Qi dual function touch and e-ink screen. The second, cheaper version announced today features a standard LCD screen. Apparently they found a cheaper, more reliable battery as well. Throw in some new UI work and better e-mail support, and the Adam should be even better than first announced.
So, now we are looking at two Adam tablets with different (competitive) price points. We should see something before November. I'm not sure what the original target date was, but I heard something about a 3rd quarter launch window.
Hopefully we'll get a glimpse of the new LCD version soon, and some pricing information. As news is released, it will be covered here. Until then, let's hope this is worth the wait.
Tags: Adam, Notion Ink, Notion Ink Adam