AT&T announced the HTC Aria today. It will be released on June 20. There have been plenty of rumors about this phone, even one about a name change. It looks like some of the rumors are panning out, with the obvious exception of the name change.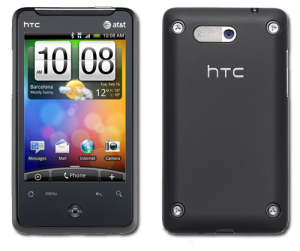 Here are the specs:
Android 2.1
5MP camera
3.2″ HVGA display
"Responsive" capacitive touch screen
Optical joystick
3G/802.11b/g Wi-Fi/Bluetooth 2.1 A2DP
2GB microSD included in box
The specs list is pretty short, but as June 20 approaches I expect we'll learn more. AT&T is very proud of the HTC Sense platform. I think the standard Android UI is just fine, though it seems most manufacturers disagree. One interesting thing came from the press release though.

"HTC Aria is the first of several smartphones in our Android portfolio to run the 2.1 platform."
Jeff Bradley, senior vice president, Devices, AT&T Mobility and Consumer Markets
It looks like AT&T might be attempting to live up to its promise at CES that we'd see 5 phones in the first half of 2010. Unless the Dell Aero is released soon though, AT&T will only have two Android phones out before July, missing their target.
Here is AT&T's HTC Aria Unboxing video:
The Aria will be $129 after a $100 mail-in rebate with a two year contract and smartphone data plan required. Considering that the phone looks much better than the Backflip, it is good to see a comparable price. The Aria comes in only $29 above the price of the Backflip.
As more information becomes available I will cover it. Finally, AT&T's Android-loving customers are finally getting a glimmer of hope. Let's keep hoping that AT&T doesn't disappoint.
Tags: Android, AT&T, AT&T Wireless, Google Android, HTC, HTC Aria