Last week Facebook announced new, easy-to-use privacy controls. I have been checking for the new features ever since, and finally the changes are live. When I logged into Facebook I saw the following message in my Home screen:

This seemed straightforward enough, so I clicked the link. You are taken to a page that describes the privacy features. It covers each area you need to check to make sure your privacy is secured. There are also some helpful screenshots to help guide you along. Once you are done with the tutorial, you can then go to your privacy settings.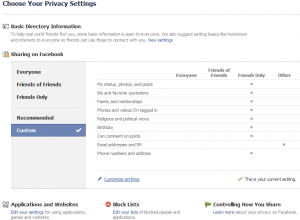 You can click on each of the navigation categories – Everyone, Friends of Friends, Friends, and Recommended. I have some settings customized, so I see an option for Custom as well. Interestingly, the Recommended category isn't as wide open as I expected. I wouldn't use the Recommended setting though. I personally locked down to Friends Only, and then used custom features to allow my blog URL to be seen by everyone, and restricted some less-used e-mail addresses to myself only. If you don't have a website you want people to find, you are fine going with Friends Only.
According to Facebook, this completes the evolutionary cycle the privacy settings have gone through these last few months. As always, take their word with a grain of salt. Never post something you wouldn't want leaked all over the web.
Even with these new features, I still recommend adding the bookmarklet from ReclaimPrivacy to make sure you plugged all the holes. If you have any questions about installing the bookmarklet, let me know in the comments and I will do what I can to help.
Remember, uploading to the web is not a guarantee of privacy, especially if the information/images/video is going to Facebook. Only post things you won't regret later.
Tags: Facebook, Facebook Privacy Settings, Privacy