Sony Ericsson announced several phones today. Among them was the newest member of the Xperia family, the X8. The X8 comes in between the full-sized Xperia X10 and the Xperia X10 Mini. The stated goal of the X8 is to reach out to a new market. The UI is based on the X10 mini, with the same four corner, one hand usability. The X8 will also feature Sony Ericsson's Timescape for keeping up with social networking sites. The price for the X8 should make it easier for people to acquire, even without a carrier subsidy.
"We are delighted to be able to bring the full experience of our Xperia smartphones to new consumers by delivering a fully featured device at a more accessible price point."
Timo Maassmann, Product Marketing Manager for XperiaTM X8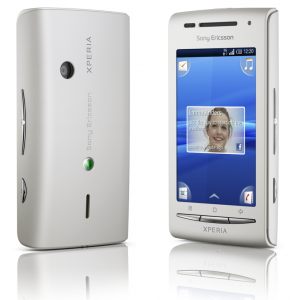 Let's take a look at the specs:
3″ Capacitive touchscreen, 320 x 480 pixels (HVGA)
Auto rotate
600MHz Processor
3.2MP camera with Geo tagging, video recording, and direct to Facebook uploads
Music player with PlayNow and TrackID
Messaging: Push email, Instant messaging Microsoft Exchange ActiveSync support, MMS, SMS, Predictive Text Input
Infinite button
FM radio, Video streaming, Video viewing
Location based services: A-GPS, Google Maps, Wiseplot navigation (free trial)
3.5 mm audio jack
Bluetooth with A2DP, Micro USB connector, NeoReader barcode scanning app
USB mass storage and other USB support
Up to 128MB internal memory, 2GB microSD card included, upgrade up to 16GB
For a lower-priced entry phone, this is pretty loaded with features. It is available on the GSM GPRS/EDGE 850/900/1800/1900, UMTS HSPA 800/1900/2100 and UMTS HSPA 900/2100 bands. The four corner customizable one-touch menu options look pretty convenient, and are designed to be used with one hand. The X8 will either be released with Android 1.6 and upgrade quickly to 2.1, or it may begin at 2.1, according to Sony Ericsson. It may end up varying from market to market.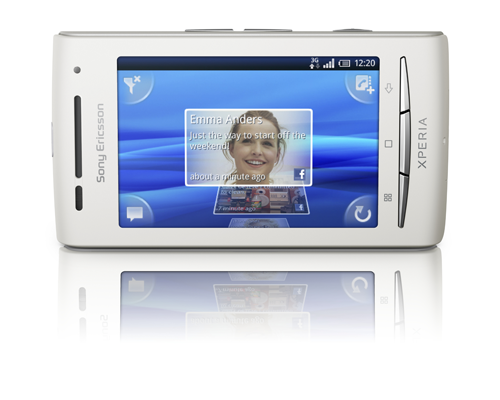 The Sony Ericsson Xperia X8 will be available in Q3, 2010, in select areas. It will be available in a variety of colors. For anyone wanting to get in on the Xperia action without the higher price of entry, this phone looks really good. The phone is currently being priced below 200 Euros, which places it slightly above the subsidized price of the X10 (where available), but doesn't anchor you to a carrier. As more information on US carriers and availability comes out, I'll post about it. The Xperia line keeps growing, and each one of them could make it to my wish list. Now we just need to see if AT&T will get involved.
Tags: Android, Google Android, Sony Ericsson, Xperia X8