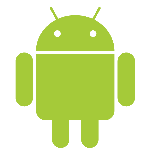 When I first picked up my Acer Aspire One with Android I have been on the hunt for Android apps. My netbook is not compatible with the Android Market, so I have been stuck with a pretty slim collection of apps. Today I may have hit the Holy Grail of non-Market apps. I stumbled upon it accidentally while looking for something else, but thanks to Android Central I finally have some real apps. I had my kid in a candy store moment today as I installed app after app. I had found a couple sites in the past, so I thought I would go through the whole list and point out some of the better ones.
First up is the Insyde Market. Insyde is the company behind the bios on my netbook, and they had apparently aspired to have a decent app store, a blog, and more. They didn't succeed. There are a couple of paid apps and a few free ones, but there was not really anything worth downloading. I quickly moved on in search of something better.
Next is the AndAppStore. This was at one point my favorite non-Market app store, as it was far better than anything I had previously found. It even features an app to download other apps. There is a pretty good variety on this site, but there are none of the apps that I have been looking for, like Google apps.
I next found SlideMe. This one was featured on a number of sites, evidently being pretty popular. It quickly took the top spot on my list, but this too was short-lived. SlideMe is also an app store with a downloadable app. I could check for new apps without having to navigate to the site. Considering the trouble it takes to browse in the browser that lets you install apps (not Firefox), the installable app store app is very convenient. SlideMe has several hundred apps, and some of them are pretty good. There still weren't the Google apps I was hoping to find, so my search went on.
Today was the jackpot day though. The above-referenced post from Android Central has a list of 6 or so main sites, and a few alternatives. The first one was a no-go. Anda.pk got their account suspended by Host Gator. Next was brothersoft.com. This is a decent store. Most of their best apps are featured prominently on the page. I downloaded a Google Buzz app from them. The app was no different than the Chrome app I have on my desktop, but this was the first time I could replicate it on Android. There are a few more apps that look interesting, but I was looking mostly for free apps and moved on.
The next on the list was freefunfiles.com This site looked a little shady to me, so I moved on. I am not saying it is shady, but I just wasn't as comfortable using it. There weren't that many apps available anyway.
MobiHand has a pretty decent selection. There are a number of free apps available. I didn't download any today, but I am not opposed to it. The list is big enough that I will be spending some more time seeing what they have available.
Next up is another app store with a downloadable store app. Handango has a pretty decent app selection. The store app has a featured app on top, and then shows the category list. The apps range in price from free to over $25. I found it interesting that each category was sure to have one or two free apps laced in between the various paid apps. If you are in the market for paid apps, this site will be good for you. For free apps, there are others that are much better, including the next on my list.
The Holy Grail incident happened with Android Freeware. This site was deceptively good. The home page doesn't look like much, but it does mention the over 600 apps available. Once you start navigating through the site, the diamond in the rough emerges. This is the place I found the long-sought-after Google Apps. I downloaded Google Sky Map, Voice, and Translate. Some of the other Google Apps didn't work, but considering the problems I already had running Android on a netbook, I didn't mind so much. Google Maps and Goggles wouldn't install on my netbook. I installed Facebook mobile, IHeartRadio (Clear Channel's radio app), and a few other random apps. I spent a lot of time installing app after app. I even found Photoshop Mobile, which I had been denied earlier due to my lack of access to the Android Market. I plan to spend a lot more time with this app store. The selection is really good, and it had a lot of the apps I had really been wanting.
This list is not all there is. There may even be a better app store out there. Obviously the real Android Market will be much better than anything I have found so far. Today's Holy Grail experience was fun, but perhaps it is just a "Grail-shaped beacon" and the next best thing is around the corner. I am really having some fun with my new apps, and finally have a good reason to stay on the Android partition on my Acer netbook. So long Windows, at least for now. I finally have some apps.