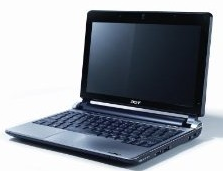 I picked up a new Acer Aspire One AOD250-1613 netbook from Amazon.com at the end of January. I have been putting it through its paces since then, so I decided to share my experiences with it here. I'll start with the specs.
Intel Atom Processor N280 (1.66GHz)
1GB DDR2 SDRAM
160GB Hard Drive
6-cell Lithium Ion Battery
Windows XP/Android dual boot OS
10.1″ WSVGA Acer CrystalBrite LED Display
Integrated Webcam and Microphone
89% Standard Size Keyboard
Bluetooth 2.1
54G wireless LAN (802.11b/g)
VGA output
Stereo Speakers
10/100 Ethernet
3 USB ports
Multi-in-1 memory card reader compatible with MultiMediaCard, Reduced-Size MultiMediaCard, Secure Digital, Memory Stick, Memory Stick PRO or xD-Picture Card
Microphone jack
Headphone jack
1″ thick when closed
For a netbook, it is loaded with features. The built-in webcam and microphone are particularly convenient on this netbook, though it is getting harder to find a portable computer without this feature lately.
My experience with this netbook have been mostly positive. I bought it specifically for the Android OS since I was getting impatient waiting for AT&T to release an Android phone. It was only after I played with it a bit that I found the mostly negative reviews scattered over the web. I want to address the main criticism first, then follow up with my own experiences.
The first thing other reviews have done is praise the fact that it has Android. The first thing the reviewers (often the ones who had just praised it) bash is the Android experience. When booting into Android mode, one learns fairly quickly that the Android Market is off-limits. What good is an Android phone without the Market? This is where most of the negative reviews stopped.
After a substantial amount of searching Google for answers, I finally found my solution. Fortunately there are some alternatives to the Android Market. One of these alternatives is offered by a Insyde, the brand that runs the bios on the system. The Insyde Market has a number of apps that you can download to your Android. The website is a bit weak, but at least there are some usable apps there. One thing I had to learn was which browser to use to install the apps.
Installed on the Android partition are two browser options. One says Firefox but is really Minefield, and the other is a more cell-phone-esque version. It is simply labeled Browser. This is the one to use. If you use Firefox you can't install the apps. The trick to using it efficiently is to enter the URL in the Google Search bar on the desktop. Otherwise the navigation takes some getting used to.
The main thing I was disappointed in is the inability to install Google Chrome on Android. I tried both versions of Linux offered by Google, but neither one was recognized by the installer. Though this was disappointing, the bottom line is that Android was not intended to run on a netbook, being a mobile phone OS. It is a fun feature, but unless I am just checking e-mail or playing with apps, I have to use the Windows partition.
Whether using Android or Windows XP, I have used my netbook quite a bit. I have taken it to two conferences, attended my online class, and written several blog posts. The 89% keyboard has been pretty useful, especially when compared against the Dell mini that I tested. While I occasionally miss a key, I have been able to type with a fairly high accuracy rate. Ideally I type on a table, as it lowers the miss rate.
One of the best features is the 6-cell Lithium Ion battery. Having taken it to two conferences, I was very happy with the battery life. I made it through most of the day without needing to plug it in. This was especially useful in the Las Vegas convention center, where conference attendees have to search for outlets. Being able to type all day, put the computer in and out of sleep mode, and still have battery left is pretty cool. I have been really satisfied with the battery.
Another cool feature is the touchpad. There are three ways to use the touchpad: circular motion, pinch, and flick. The circular motion allows for a smooth scrolling experience. Pinch, as we've come to expect from touch screens, is a zooming feature. Flick is a Mac-like way to navigate through images. For a notebook these features would be impressive. In a netbook they were surprising and have proven pretty useful so far. See the diagram below to get a better idea how it works.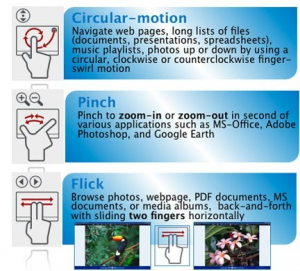 Overall, I would say that the Acer Aspire One is worth having. I have had a mostly positive experience, and the negatives were easily worked through. This netbook is loaded with features. The 10.1 inch screen and the nearly full size keyboard make this netbook very easy to use. I recommend the Acer Aspire One AOD250.