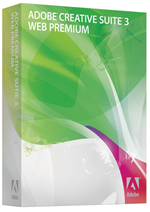 I recently upgraded my computer to Windows 7, and installed all my old software including Adobe Creative Suite 3 Web Premium. All was well until a couple weeks ago when I started noticing hiccups in performance. These hiccups soon graduated to outright failure, and then my problems really began. I tried running the repair function to no avail. I tried uninstalling the product through the Control Panel. When I tried to reinstall I found that I could install Acrobat and Bridge, but nothing else. The more I tried the more I failed. Now that I finally succeeded, I thought I would share my experience.
Yesterday I decided I needed to contact Adobe to solve my problem. I chose to use their customer service chat service, so I could multi-task. The guy confirmed my license was good and offered to walk me through a deactivation of my license so I could try again. The problem was that I could not open the software to run the deactivation. If you can't open Photoshop, Flash, or Illustrator, you certainly can't click on the Help file and select de-activate. He suggested that I open a ticket on the Adobe web site. That was the end of that. I submitted a ticket, and was told I would have to wait up to three business days. Fortunately, and this is a bonus for Adobe here, I got a response within the hour.
The response to my request was a pdf with instructions on what to do to reset my license and start over. The instructions assume the product is still installed, and functional, but I gave them a shot anyway. The first step was to install a License Recovery tool. When you extract the zip file and run it, the instructions are simple enough to follow. The first time you run it you just hit the enter key at the appropriate prompt. The second time through you have to type a 0. Simple enough. In this case, though, both proved ineffective as the installs continued to fail. On to the second choice.
The next step was to open Administrative Tools, though the instructions were not for Windows 7. Fortunately, with Vista and Windows 7 you can type the name of the program you want in the Start Menu to find things, so I got to the Administrative Tools without too much trouble. Under Administrative Tools, go to Services and look for FLEXnet Licensing Service. If you've uninstalled, it won't be there, which is fine. If the program is installed (or a portion of it), you should see it in the Services. The instructions said to set the Startup Type to Manual, but I found it was already set to Manual. I went through this step a couple of times as I tried my re-installations. I found that if FLEXnet wasn't there, I had successfully uninstalled the last attempt. Since this step ultimately failed, I moved down the support document.
There were a series of scenarios and URLs of solutions. While these latest attempts didn't tell me what was wrong, other than something about the original installation file being moved, I picked a scenario of something I had seen earlier, Error: "The licensing subsystem has failed catastrophically." when you start a Creative Suite 3.x application. The support site for this error is at http://kb2.adobe.com/cps/402/kb402004.html. It gives you some reasons for the failure, including using Windows Restore, which I had done last week. There are a series of solutions to try, depending on your operating system. I went down the list looking for Windows solutions. I found one solution regarding uninstalling the suite on Windows. Since I had already uninstalled I skipped to step three, "Remove all files related to CS3 from your system." Here are the steps:
Go to Start Menu > My Computer
In the Address bar near the top of the window type one of the following:

On Windows Vista, type: \Users\<user_name>\AppData\Roaming\Adobe
On Windows XP, type: \Documents and Settings\<user_name>\Application Data\Adobe

Delete files and folders with CS3 in the name
In the Address bar near the top of the window type one of the following:

On Windows Vista, type: \Users\<user_name>\AppData\Local\Adobe
On Windows XP, type: \Documents and Settings\<user_name>\Local Settings\Application Data\Adobe

Delete files and folders with CS3 in the name
I was too impatient to hunt for My Computer so I simply navigated with Windows Explorer to the files I needed. Being on Windows 7, I followed the Vista instructions. As it turns out, I missed that final section for Local Settings, but it worked anyway. Either that or what I did next. After deleting the CS3 files as instructed, I deleted the Adobe installer, the installation files, and every other reference to Adobe I could find that wasn't a plug-in. I then restarted my computer to be sure, and re-downloaded the License Recovery tool. I ran it once and proceeded to install CS3 again. Guess what? It Worked!
So, the bottom line is, if you are unable to deactivate your product, make sure you delete every instance of CS3 on your machine before you try to reinstall. I think Adobe should really re-think their licensing policy, but for now I am just happy my software works again. Hopefully this will help keep you from the frustration I endured the last couple of days.