I'd seen news in passing that the Kindle would be sold at Target stores. Evidently there is a roll-out occurring, starting at Target headquarters and branching out. I was at Target today in Ventura, and saw the Kindle in full glory on an end cap. I am not sure if California was the last stop or among the first, but at any rate it is here in my hometown.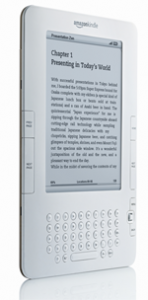 The Kindle was located right next to the Sony Readers, upping the perception of competition between the devices. That Kindle got an end cap means Target really wants you to see it. I didn't have time to linger at the display, so I'll have to go back and do a side-by-side comparison, as displayed in the store. The Sony Readers are usable demos, while the Kindle is not, however. I will have to depend on documentation to make the comparison.
Of note is the lack of information on Target.com. I can only find Kindle accessories, which makes me think that there are still places without it. If you live outside of California, or live in a California city that didn't get the Kindle, drop a line in the comments and let me know.