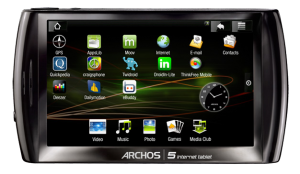 Continuing the e-Reader Wars series, we come to the Archos Internet Tablet. I am going to focus on the Archos 5, but newer versions are already on their way for release in the near future.
The basics:
4.8" touch screen, 800×480 pixels
Wi-Fi (802.11 b/g/n)
Bluetooth 2.0 A2DP, EDR, ARCP, HID, Dial Networking
FM transmitter (requires the Car-mount that features the antenna) and FM receiver
Built-in speaker, Built-in leg stand, Built-in Microphone
Micro SD (SDHC compatible) on ARCHOS 5 Internet Tablet 8 to 32 GB
The above is just the short list. This tablet is loaded with features. It plays 720p video, records and plays audio, has a wide array of hardware add-ons that include DVR, and so much more. I got to play with one a while back and though it was clearly the used and abused floor model, it still was a pretty solid device.
For the 16GB unit, the retail price is around $300. There are various versions of the device though. You can get it in a variety of sizes and with different bells and whistles. Archos is sticking with the lower end of the tablet pricing range. Its new Archos 7 is even cheaper, starting at $200, and featuring a 7 inch screen. This summer the Archos 7 and the Archos 8 are coming out and they look pretty good too. They will be getting a post in this series as well.
While the Archos 5 is only 5 inches, it is still fairly large for a mobile device. The subsequent larger versions are still portable though. I think I could get along just fine with any version of the Archos. No need to spend $500 on a non-HD iPad here. If you want a solid Android device without breaking the bank, the Archos 5 could be for you.