AT&T announced a new site today called Buzz.com. Not to be confused with Google Buzz, this is a place to share your favorite places with your friends. The idea behind the service is to allow users to recommend places, and receive recommendations from their friends.
The site is pretty intuitive, but they hold your hand quite a bit during the first few minutes you are browsing. See the image below for an example of their mini-tutorials.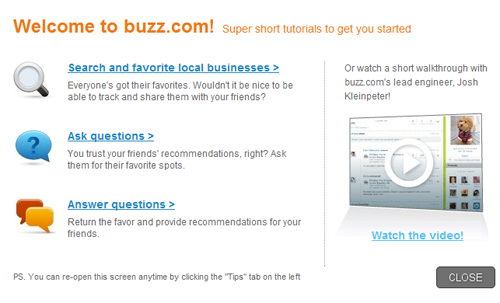 I searched for a new restaurant I went to over the weekend and added it to my favorite places without any problems. The site is incredibly easy to use. As I am sure it is geared toward mobile browsers they keep it pretty simple.
To log in, you can create a new account or use Facebook Connect. I chose to use Facebook Connect since I think I have quite enough separate logins to the various services I use. I was able to quickly log into my Facebook account. I said no to the post to my wall and to sending me e-mail, as I want to explore the service a bit more before I let them have control of my Wall. It is up to you how much you want to trust them though, so if you are okay with it, select the appropriate permissions.
This site has been in private beta, but is now open to the public. This is the first I had heard of it, so I don't know a lot of the background. It looks like they are still technically in beta, calling it an early-access beta.
There are three basic elements to using Buzz.com:
Favorite – Whatever business you like, just click the heart and it becomes a favorite.
Search – You can search the entire Buzz network or just your friends to see if they recommend a particular place.
Ask and Answer – You can interact with your friends on both your Facebook Wall and on Buzz.com.
To view Buzz.com on your smart phone, enter m.buzz.com. There are additional features coming to the mobile site, so they encourage you to keep checking back for updates.
This looks pretty interesting. I am not sure if it is too late, as Foursquare and Yelp have a lot of users, but this is an interesting attempt from AT&T. I am going to explore it a little more. I'll let you know if I find anything interesting.