The e-Reader Wars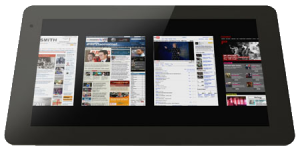 Its time now to check out one of the smaller guys. The JooJoo is not an e-Reader any more than the iPad is, so it will be interesting to see how it fares against the Sony Readers and the Kindle. There is the added bonus of a bit of a scandal, but more on that later.
Let's start with the specs:
12.1″ Widescreen Display
1366×768 Resolution
Wi-Fi (802.11b/g)
Bluetooth 2.1
Webcam
4GB solid state memory
USB
Microphone/Speakers
3.5mm Stereo Headphone jack
1080i video
Runs Flash and Java
Just knowing what's in it makes the JooJoo a decent competitor to the iPad. The widescreen display stands out, as do the webcam and Flash. For all these perks, there is a downside. JooJoo runs on its own OS. There was a rumor floating around that it only sold 50 pre-orders as well. Not good news for what could be a really good product.
The JooJoo was once known as the CrunchPad. It was touted as an iPad competitor, and was priced between $300 and $400. There was to be built in 3G, and a number of other pretty impressive features. Then the CrunchPad was no more. At the end of November, 2009, TechCrunch announced the end of the CrunchPad. According to TechCrunch, Fusion Garage broke their contract and forced them out of the equation. Lawsuits ensued, and in the mean time, Goodbye $200 CrunchPad, hello $500 JooJoo. Fusion Garage moved forward with the product, renamed it JooJoo, and added a couple hundred dollars to the price tag.
This is cause for a significant dilemma. Assuming TechCrunch's version of events is correct (and at present I have no reason to believe otherwise), there are ethical implications involved in purchasing the JooJoo. If they are really guilty of stealing the product from their partner, can a consumer in good conscience purchase the device? Most of the consumers will be unaware of the problem, but those that do may be inclined to think twice. Even if the lawsuits weren't a problem, Engadget reported what they cleverly described as Bad JooJoo. There were reports of some trouble people were having canceling their pre-orders. At one point JooJoos support team instructed the user to send very personal banking information in order to get the refund. Not something a legitimate company, or at least a business savvy company would do. It may very well have been one person's mistake, but considering the overarching scandal, it makes one wonder.
Now that we have discussed some of the issues, is it a worthy iPad competitor, or staying true to this series, is it a viable competitor to an e-Ink based e-Reader? Based on specs alone, the answer would have to be yes to the iPad part, and maybe for the e-Reader. There isn't an indication that reading an e-book will be worth attempting. It is billed as an internet device, without really mentioning the e-book market. I assume at some point they might try to integrate the Kindle software like the iPhone, but that assumes the JooJoo OS can support Kindle software. Again, based on specs, this should be a pretty fun device. There is a lot of baggage attached to the JooJoo though, so if your conscience allows, go for it. I think I will pass.