Dell's Ron Garriques spoke at the D8: All Things Digital conference today and had some good news for US consumers – the Streak is coming at the end of July. It looks like for the U.S. version it will be available unlocked on Dell's website for about $500, while our European friends get it subsidized for free with a two year contract. Acccording to Garriques, the Streak will launch in Europe next week.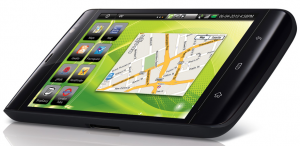 The Streak comes loaded with features. Here are the specs:
5″ multi-touch WVGA screen
Wi-Fi/Bluetooth/3G connectivity
Snapdragon 1GHz processor
Integrated Google Maps navigation
5MP camera, and additional front-facing camera for app interaction
UMTS / GPRS / EDGE class 12 GSM radio
Micro SD expandable memory up to 32 GB
2GB internal storage for Android downloads etc. (This feature was starred but there was no supporting footnote)
Flash 10.1 available on a future update with Android 2.2
HDMI output with dock (included in box)
Check out Dell's promotional video below.
Garriques didn't specify what size SD card would ship with the Streak, claiming it was to be determined. He also said it wasn't determined yet whether the Streak will come with a video chatting app. While it has already been made fun of by bloggers for its brick-ish size, Dell intentionally designed it to fit in a front shirt pocket. That made a little more sense. It is being marketed as something between a phone and a tablet, and Dell is proud of the size.
I would hesitate to buy this at $500, since some really good laptops go for that price lately. However, Garriques seemed to imply that a U.S. carrier might pick it up and subsidize it. I can see this device being a good deal if AT&T or some other carrier picked it up this summer. It will be interesting seeing how Dell does this summer, as its Android lineup is looking pretty good.