I was doing an article review on security and privacy for my class, and naturally Facebook was an easy subject. I found an article on Enterprise Security Today called "Facebook Launches Privacy Page to Appease Critics", by Jennifer LeClaire. In it I found something that I hadn't noticed before, the launch of the "Facebook and Privacy" page on Facebook. It looks like the first Wall entry is on May 27, so the page is definitely something new.
The Facebook and Privacy page states its mission as follows:
To provide you with the information you need to control your sharing on Facebook, and to gather input from the Facebook community about privacy.
Apparently this is intended to be a resource site for future privacy bungles issues. It looks like Facebook wants you to "Like" this page so you will be kept informed on privacy, both on Facebook and elsewhere.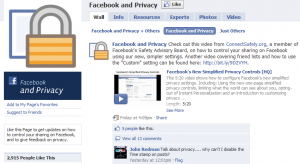 As you can see in the screenshot, the tabs on the page cover Resources, Experts, Photo, and Video. The Experts page has links to a number of different privacy advocates and government regulators. The Resources page looks much nicer, like Facebook was more interested in the look and feel of this page. There are links to videos, help content, privacy settings, and more. It looks like a one-stop shop for Facebook privacy needs.
I think this was a good move by Facebook. It has taken quite a beating in the school of public opinion. It can certainly take the beating, to be sure, as even a loss of 10 million users would be as noticeable as a fly landing on your arm. However, as is often quoted in Spider-Man, "With great power comes great responsibility". Sure, Facebook wouldn't notice 10 million people leaving. That doesn't mean it should abdicate its responsibilities to the public. This was a good step. Let's put aside our cynical natures and hope that Facebook is indeed moving in the right direction.
Update: The original feed from facebook can be found here.