Yesterday I had fans on my Facebook pages. Today I have people who like me. Facebook has implemented its new strategy, and I am not so sure I like it.
According to Facebook:
"To improve your experience and promote consistency across the site, we've changed the language for Pages from "Fan" to "Like." We believe this change offers you a more light-weight and standard way to connect with people, things and topics in which you are interested."
Convinced? I'm not. There was nothing wrong with liking a friend's post and being a fan of a business page. Apparently the deeper reason is the creation of Community Pages, which are now in beta. Community Pages are more nebulous, in that you can take a particular aspect of your profile and find others who share an interest. Community Pages act like Business Pages, but are community driven. Nobody "owns" them. See the image below for an example of how to connect to a community.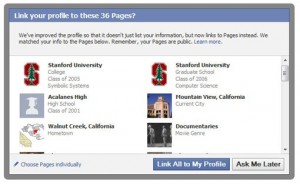 I still don't see why the Fan language was a problem. It made so much more sense. When I click "Like" on a friends post, it is a +1, or an "I agree", or "that is cool". It usually means I don't have something in particular to say about it but I want to express support. I am a fan of certain businesses. That is why I chose to become a Fan on Facebook. I more than like the companies on my profile. To go from being a Fan to just "liking" is a step down. It will hurt the process.
What do you think? Are you annoyed with Facebook? Do you think this was a good move? Hopefully Facebook will listen to their "likers", since they've just lost all their Fans.