Google Labs has a couple of new features that I find particularly useful. POP Refresh and Nested Labels.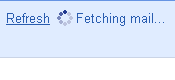 Refresh POP accounts adds a Refresh button at the top of the inbox. It is designed to be a quick way to get your lagging POP accounts to refresh. When I moved from Microsoft Exchange to Google Apps I really could have used this feature. I had to constantly go into mail settings to get Google to check my POP account again. Having thousands of e-mails to transfer, this process took a week. The refresh button would have saved me time. Of course so would the export tool Google introduced a couple of weeks after I finished.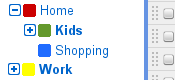 Nested labels is a fun addition, though not as helpful as the POP refresh. Nested labels act even more like the old folder system. You can have a base category and a number of sub-categories. I can see this being useful for organizing labels. Sometimes a home style label can end up taking several tags, which can now be organized by nesting them. I didn't see a real problem with the traditional tag system, but I am going to try it out for a while and see how it goes. If you haven't checked labs in a while, click on the green chemistry beaker at the top of your Gmail account. It's definitely worth a look.