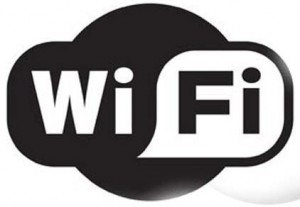 As you may have noticed from my last few posts, I recently went on a business trip. I brought my trusty new netbook for its first major outing. As wi-fi is becoming more ubiquitous, I thought I would try my luck at getting as many free or low-cost wireless connections as possible.
My first opportunity came at the Burbank Airport. I remembered last year there was an AT&T hotspot, but since I can't get AT&T in my area, I was unable to take advantage of it. This year there was a free service though. I was able to take advantage of it while I waited for my plane.
I got to my hotel late enough that I waited to get online again until the next morning. The Las Vegas Convention Center has a couple of different zones available, depending on where you are in the building. In the opening session I used a free service that I had to register for, and for a free account I could only use it for 30 minutes per day. This was enough to get me through the first session, but then I was on my own.
One of the best things about my "dumb" phone is that I can tether my internet connection. In a pinch I can connect at relatively fast speeds through my Bluetooth Personal Area Network (PAN). I don't have 3G, so the speed is that much more impressive. Unfortunately I got a little carried away and managed to drain my phone and my netbook of most of their power. I had the ability to charge my netbook on the spot, but I was out of luck on the phone side until I returned to my hotel.
As I was heading to a luncheon, I noticed a "Blogger's Corner" that advertised free wi-fi. I mentioned this in an earlier post. I was able to get some work done, and since it was designed for bloggers, I went ahead and made a preliminary post from there.
When I got back to my hotel I had to pay for the wi-fi for the first time of this trip. $10 bought me 24 hours of access. Unfortunately my room was far from the access point, so I clocked a whopping .99Mbps. My cell phone is faster than that. I didn't have much of a choice though, so I went with it.
Thursday morning it was back to the free 30 minute session from the Convention Center, and then back to the blogger's lounge later in the day.
On my way home, I thought I was going to get a chance to use wi-fi on a flight. Unfortunately, as I mentioned in yesterday's post the connection didn't work. I was a little disappointed. Southwest mentioned an experimental pricing plan ranging from $2-12 per segment of flight. My little 1 hour hop back to Burbank certainly would have qualified for the $2 plan, but I didn't get the chance to find out.
In summary, I was able to use free wi-fi at the Burbank Airport and Las Vegas Convention Center, paid for access in my hotel, and while technically I pay for my unlimited internet on my phone, the Bluetooth connection was free. I was denied a connection on the airline, but had it worked that would have been a round-trip connection, the bulk of which was free. There will soon come a time where this entire trip will be connected to wi-fi both free and fast. Until then, I think I got pretty good mileage out of the services I was able to find.