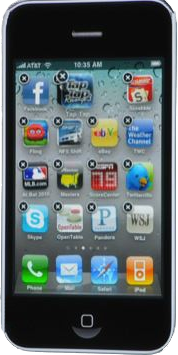 The iPhone OS 4.0 was announced today. There are some much needed, though not entirely surprising updates to the phone that many know and love. Apple claims there are more than 100 new features. With the weekend release of the iPad, features like iBook were already common knowledge. If there are over 100 features, surely some of them are new things, though iPad owners may already be experiencing them.
Among the new features:
Multi-touch
Folders
Unified e-mail box
iBooks
Bluetooth Keyboards
5x Digital zoom
Touch to focus video
Search SMS messages
There are also new toys for developers. Apple introduced iAd to help developers make money with their apps. There are Enterprise features for business users too. Developers have over 1,500 new APIs to play with, which should vastly improve the variety of available apps. Among the developer tools is full access to both the still and video camera, in-app SMS, calendar access, photo library access, and map overlays.
Data Protection
Wireless App Distribution
Mobile Device Management
SSL VPN support
Improved Mail (Exchange ActiveSync supported)
What about compatibility? According to Apple:
iPhone OS 4 will work with iPhone 3G, iPhone 3GS, and the second- and third-generation iPod touch this summer, and with iPad in the fall. Not all features are compatible with all devices. For example, multitasking is available only with iPhone 3GS and the third-generation iPod touch (32GB and 64GB models from late 2009).
www.apple.com
From the looks of things, the iPhone 4.0 will be much better than the current versions. The Bluetooth keyboard feature stands out as one of the best new features in my opinion. Bluetooth support has been under-appreciated by Apple, seemingly until now. Folders should be interesting, as well as the multi-tasking. One of the questions that wasn't answered though is whether or not the PHONE part of the iPhone would start working. Two iPhones into the game and we can't consistently make phone calls (and no, our issues have nothing to do with AT&T).
There is lots of new info to digest. As new information comes up I will post about it. This has been a great press week for Apple. May your good times continue, Apple-philes, but be prepared for some interesting competition.