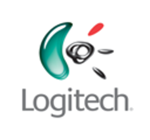 Having discussed the Sony Internet TV, it's time to turn our attention to the Logitech companion box. Logitech has been busy blogging about its role in Google TV, but while the technology is named Harmony, the unit itself seems to be nameless. It is consistently referred to as the companion box. I'm not sure if it will keep this name at launch, but it is descriptive enough, for now.

Simply, Logitech describes its role in Google TV as follows:
"The Google TV companion box we're creating will search and access to TV and Web content anywhere, from your satellite or cable provider, even some compatible DVRs."
BLogitech
Details are emerging pretty regularly from Logitech. The device will contain Logitech's Harmony Tech. Harmony Tech has been branded as the Harmony Link. Harmony Link is the control center inside the box. It is what allows Logitech to receive multiple kinds of signals and convert them to infrared signals. It works with any brand of signalling device, designed to create a seamless experience for the user. Harmony Link is also what will let you use a free Android or Apple app to convert your cell phone/tablet to a multimedia remote.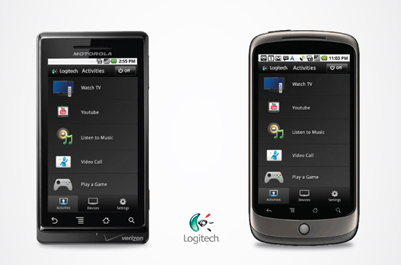 The Logitech companion box plugs into your TV, and receives signals from your cable/satellite box, and some DVR boxes. It brings everything together to enhance the user experience on the television. You can even use it for video chatting with your friends and family, from the comfort of your couch. Logitech describes its role as the first companion box that will bring Google TV to the 60+ million HDTVs already in people's homes. This seems to indicate the Sony Internet TV isn't necessary to access Google TV.
The remote for the companion box will be a combination keyboard, remote, and track pad. As mentioned above, though, even a mobile device can control the box. Below is an image that gives you an idea of what the Harmony software can do for you.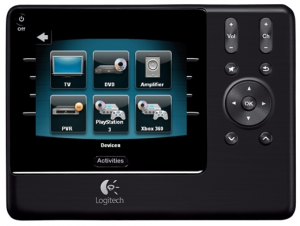 So, what role does Logitech play in Google TV? Evidently a big role, as it is what connects to your TV to make everything happen. The free smartphone apps is definitely appealing. No more hunting for the remote. Just pull out your cell phone and you are good to go. This should be pretty cool. The Logitech companion box should lower the barrier to entry, financially speaking, as Sony TVs are typically on the high end of the price scale.
As with the rest of the Google TV elements, there is no official launch date or pricing information. We know it is coming this fall, right around Christmas shopping season, based on Google's I/O conference. I think this, and not 3-D television is going to be the big Christmas wish list item.
As more information comes out, I will cover it. I expect more details to continue flowing out of Logitech, so be sure to subscribe to my RSS feed in order to stay informed.