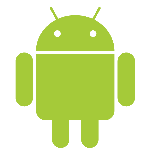 I have been reading my favorite blogs, trying to get a glimpse of when AT&T will finally get an Android phone. I even signed up for a couple RSS feeds from AT&T. Most of the rumors are leaning toward HTC being among the first Android phones. An even juicier rumor is that the new Sony Ericsson Xperia X10 will come to AT&T. From what I can tell, AT&T hasn't confirmed publicly the existence of any Android phones in the near future.
With this in mind, I casually ran a search on AT&T's website with the simple keyword "Android". I expected to find a negative result, claiming that there were no matches. I was surprised to see a lineup of phones instead. See the below image for the search result.

As you can see in the image, the HTC Pure and Tilt2 showed up, along with the Nuvifone G60 and the Samsung Solstice. I looked a little deeper, and as I suspected the HTC showed Windows Mobile as the operating system. The Nuvi and Samsung didn't show an operating system. Still, I am curious as to how searching for Android resulted in these phones being displayed. Perhaps AT&T knew people would be searching for Android and spoofed the search results. Perhaps these are phones being considered for Android. Who knows? Hopefully the wait won't be too much longer.