While today's Sprint news is going to revolve around the release of the HTC EVO, there was an announcement yesterday that shouldn't be overlooked. According to the release, Boost Mobile will bring the "first walkie-talkie-enabled touchscreen phone powered by Android." Combined with the $50 Boost Mobile unlimited talk, text and web plan, this phone should be pretty popular. The Motorola i1 will be released on June 20 at Boost Mobile retail stores as well as Best Buy and Best Buy Mobile.
Here are the specs: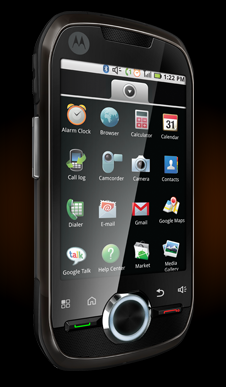 5MP camera with auto-focus and flash
Wi-Fi enabled
Email Access to Exchange, Gmail, MSN and Yahoo
Gtalk (Google Chat) preloaded
Nationwide walkie-talkie
2 Web Browsers – Android and Opera Mini 5
Stereo Bluetooth
2GB microSD card, expands to 32GB
SWYPE virtual keypad (optional)
You can see more pics and their flashier announcement here. The page didn't work so well on Chrome, but Firefox was fine.
As I recall, Boost Mobile had pretty specific user areas, and I haven't heard of any improvements with Sprint's acquisition. I'll have to look into it and report back. If Boost did gain from Sprint's network, this could be a reasonable alternative to a traditional plan.
This looks like a pretty solid phone, and the service plan is definitely more affordable than the post-paid plans, especially in light of AT&T's nixing of the unlimited data plan. Bringing Android to pre-paid is a good move by Sprint. I'd like to see the other carriers do the same. This is a big week for Sprint, so they'd better live it up. AT&T and Apple are going to do their best to regain the spotlight on Monday.