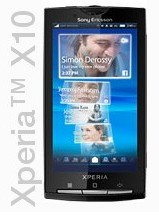 There have been some interesting things going on in Xperia X10 land so I am posting a quick update. One, it seems that there is a planned release in Quarter 2. The second is the news that the X10 won't support multitouch.
First, the good news. Android Phone Fans pointed out a couple articles about the X10. One of them was from Gizmodo, who has chosen not to review the X10 until it is updated, got some news about the release. In the post they said that Sony Ericsson assured them that when it is released in Q2 it will come with updated software. The Q2 is the part that caught my eye. I wrote a while back about the rumored April/May release on AT&T. This makes the rumor that much more plausible, though there is still no word from AT&T on the matter.
The second link Android Phone Fans included was to GSM Arena. They have a pretty good review of the X10. They give a balanced look, pointing out the various strengths and weaknesses. Overall it gets good marks though, I think, especially for the 8MP camera.
Speaking of weaknesses, we now move on to a post by Engadget. Evidently multitouch will not be coming to the X10. It is a hardware issue, according to product manager Rikard Skogberg. This really bothered the Engadget folks, and I am sure it bothered many other bloggers out there. I, for one, am not a multi-touch enthusiast. I don't really see the point in complaining about a device having multitouch. I can see how it is cool, but it will certainly not be a make or break feature for me if a phone has it. As it is, I think the X10 is going to be loaded with some cool toys, so I am not sweating the multitouch.
As always, when I hear more about the X10, so will you. Stay tuned.