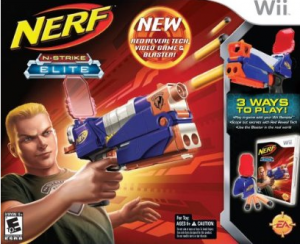 My son just got a new Wii game tonight. I must admit that I had been eying the game for a while, so we might be "sharing" this one. The game is the Nerf N-Strike Elite, which in a bundle package includes a Nerf dart gun with 3 soft-tip darts, a Wii game, and a red decoder-style lens that is featured in the game.
Here are the basics:
16 different Nerf blasters (on screen)
1st person, classic rail shooter game that allows you to blast away without worrying about walking around.
Includes Nerf Switch Shot EX-3 Blaster, which is compatible with a Wii-mote and doubles as a standalone NERF dart gun with three darts.
Includes a detachable decoder lens through which special codes and enemy weaknesses can be seen in-game.
2-player offline co-op multiplayer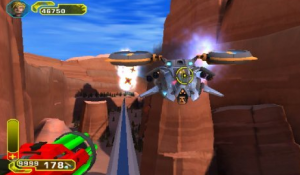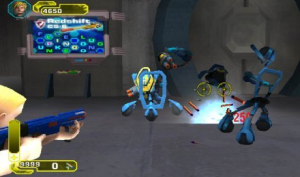 For a Wii game, the graphics are really good. The targets are a little hard to knock out without having the decoder lens (as it shows enemy weaknesses). If you don't buy an extra gun, one of you has to play with the normal Wii-mote. This proved to be only a mild handicap, as I was able to commandeer the lens when I needed it.
Game play is really basic, and you get to blow things up. Perfect for men and boys alike. I am surprised at how much I like this game. I really liked the Link Crossbow game, but this takes the concept much further. The bonus dart gun is always appropriate though. My test shots went clear across my living room with no problem.
If you have a childhood nostalgia for Nerf and have kids who are always hogging the Wii, this is a great way to get them to share. The two player mode is pretty fun, even if your partner doesn't know what he's doing. I recommend this game.