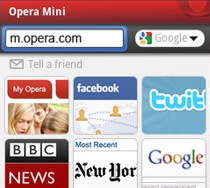 One of the first applications I downloaded on my Sony Ericsson walkman phone a couple years ago was the Opera Mini browser. I wasn't satisfied with the existing web browser and immediately searched for an alternative. I had used Opera Mini on my previous Sony Ericsson phone, so Opera was among the first products I searched for. It was simple to use, loaded pages quickly, and let me view large pages on my small screen without scattering the formatting all over the place. I have been a fan of Opera Mini ever since. The newest version, Opera Mini 5 has shaken my faith though.
Once installed, the first thing you will notice is the new home screen. It resembles what you find in Safari or Chrome on your computer. This is a reasonably cool feature, and you can choose what bookmarks to include. What I have yet to discover though, is the way to choose which bookmark gets the top priority. I found that once a bookmark was set, it was impossible to move it to another location. The only option is to delete it, and re-bookmark it in the box you want.
The second thing I noticed is the lack of my RSS reader. Having grown accustomed to the Opera RSS reader while using my phone, I naturally wanted to utilize it again. I had to search for a long time to find out how to access it. Once I did, I was disappointed to learn that I could not port the feeds from version 4. I had to go to each site again to re-subscribe. Even then, the convenient Subscribe link at the top of the page is rarely there. It takes a lot of digging to subscribe to anything.
One of the ways Opera achieves high speeds on the mobile browser is by using a socket connection. It appears that there may be a problem with version 5 though. Every time I am browsing on my phone I find that I frequently have to click links two to three times. Opera will start to think about loading the link and then just arbitrarily quit. This happens in full coverage areas, so I am fairly sure that it is the browser and not the coverage.
For all those bugs, there are a couple of cool new features. I already mentioned the startup screen. Tabbed browsing is another cool feature. On my tiny screen, I don't often choose to utilize tabs, but occasionally I do need them. This feature has worked fairly consistently. Opera claims to have a speed dial, but I haven't seen it. Perhaps it is only on the smart phones.
All in all, Opera Mini is a decent mobile browser. Version 5 still has a lot of bugs to work out, so I am going to reinstall version 4. If you are stuck without a smart phone, I definitely recommend giving Opera a try. Just be sure to use the older version for the short term.