Facebook news is all over the net today. It seems like Facebook has opened the door to a lot more of its users' private data and a lot of people are upset about it. The rest are pretty-much unaware of the problem.
Facebook made some announcements at its F8 conference that has a lot of people worried. Users are now opted in to third-party sites automatically. The more tech-savvy among us have gone in and updated our settings or opted-out, but how many people know how to do that?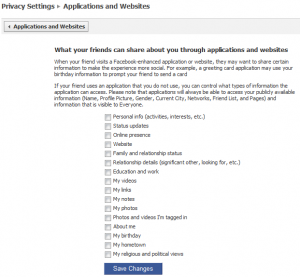 Click on the above image to enlarge it. This is how your privacy settings should look regarding 3rd-party apps. Click here to go to your privacy settings. If you aren't logged into Facebook you will have to log in to see the page. The image above can be found by clicking the button for "What your friends can share about you." As it is, even if you lock down your data, your friends can inadvertently opt you back in. Un-check all the boxes to disable their ability to do so.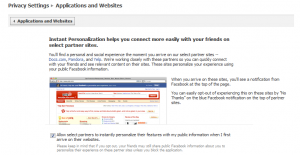 Click the image above to enlarge it. The next area you need to change is the Instant Personalization. You can use the link above or go directly to it by clicking here. There is a checkbox on the bottom that should be un-checked. When you uncheck it, Facebook offers the following insight:
"Allowing instant personalization will give you a richer experience as you browse the web. If you opt-out, you will have to manually activate these experiences. Please keep in mind that if you opt out, your friends may still share public Facebook information about you to personalize their experience on these partner sites unless you block the application."
. It then offers you a link to the FAQ telling you why you want to keep it. You can skip that page if you want and go here to see what data 3rd-party apps can see. If you are comfortable, fine. If not, you need to make sure you un-check the box from the above screenshot.
If you haven't already done so, you should take this time to update your other Privacy Settings. You may be surprised when you see how much of your data is exposed.
Did Facebook cross the line? It looks like it, yes. This should have been an opt-in service. Google Buzz was blasted by bloggers and the television news for the appearance of a privacy breach. It really hadn't done anything wrong and took steps to improve security settings anyway. Facebook has been largely ignored for its privacy violations. Let's see if this makes it to the news media. Facebook lost a lot of tech-savvy customers. I wonder how many people remain. Probably most of them, but that is due in large part to the lack of awareness. If you know someone on Facebook who may not have updated their privacy settings, be sure to send them here or to any tech blog. There should be information on protecting yourself on most other sites right now.
Facebook is a useful website, and offers a great service. They really need to address their privacy issues though.