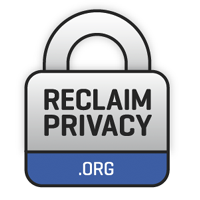 I came across a new service for showing you what privacy settings are exposed on Facebook. I checked it out, and found out that I had not covered my bases as well as I thought I had. Thanks to ReclaimPrivacy, I am reasonably sure my privacy settings are as I want them.
To use the tool, go to www.reclaimprivacy.org and drag their bookmarklet into the bookmark bar in your browser. The page explains what to do and has a nice graphic to guide you. Next, log into Facebook and navigate to your privacy settings. Once you are on your privacy setting page, click the bookmarklet and watch the app work. Here is my final result:

As you can see from the image, I have green boxes on all but one area, indicating I have nearly locked down my settings. The one caution note involves the public broadcast of my website, which is this blog, so I left it open to public view. I was surprised to find some areas exposed that I thought I had plugged. I feel confident that I can use this tool to maintain my privacy in the future.
To use this tool, though, required a bit of a leap of faith. I have to trust that this tool is doing what it says and not harvesting my information. A good sign is that I didn't have to log in to Facebook through the service. I will keep my eye on the reviews of the tool to make sure it continues to be safe to use. If you are unsure of how to protect your privacy on Facebook, I recommend this tool. Even with Facebook's apparent concession to the privacy blunders, we have been warned. Whether or not we can truly expect online privacy is another matter altogether, but a bait and switch shouldn't be tolerated, hence the uproar. Check out the feature. Hopefully it is as easy for you to use as it was for me. If not, send me a note and I'll do what I can to help.