HootSuite has a new feature, and they are very proud of it. So proud that they force you to read about it every time you load their page. See the image below to read the contents of the popup.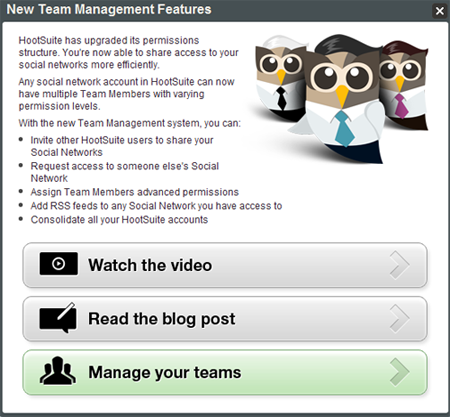 I am a fan of HootSuite, and have been using it almost as long as I have been using Twitter. At work I use CoTweet, and while they always had similar features, HootSuite seems to have improved on their end.
The new feature apparently deals directly with social networking. Twitter can be considered social networking, but I am guessing this has to do more with blogs, Facebook, and such. I can see how this can be a useful feature, especially if any writers join me here at Padgett Tech. As I don't need it yet, I think that HootSuite could have gone about advertising the feature a little better. Fortunately for them I am a happy user, so I am only mildly annoyed at the popup. I would like to know how to make it go away permanently however. If anyone figures it out be sure to let me know.
If anyone is using HootSuite, check out the new feature and let me know what you think. Should I have an opportunity to use it I will post about it.