As you are likely aware by now, Google TV is coming this fall. I briefly discussed the concept of Google TV in an earlier post, and am going to review the components as we currently know them individually. First up is the television, created by Sony.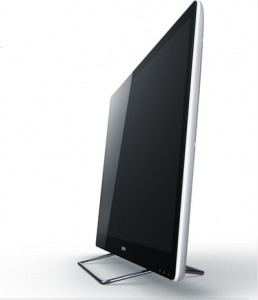 Unfortunately Sony hasn't released a lot of details yet. Interestingly, it is being called the Internet TV by Sony. Here is what they're saying so far. Sony Internet TV is:
An HDTV that searches
An HDTV that's smart
An HDTV that's powerful
The Sony Internet TV has an Intel Atom chip that is capable of running streaming videos and interact with a wireless QWERTY remote. Upgrades to the system will happen automatically in order to make sure you have the best experience possible.
At the Google I/O, Google CEO Eric Schmidt asked Sir Howard Stringer where Sony is going to go with this technology. Stringer confirmed that they have plans beyond the television. It seems like there might be a Sony Ericsson phone tie-in at some point, based on Schmidt's interview at the I/O. Stringer confirmed that they have big plans, and left it at that though. We'll just have to wait and see.
That's the gist of the Sony Internet TV, as it currently stands. Sony just announced their 3-D line today, so I imagine the Internet TV will get some more attention in the coming weeks.
As more information emerges I will be sure to cover it. Until then, dream big. Something cool is coming very soon thanks to Google and some leading technology firms.