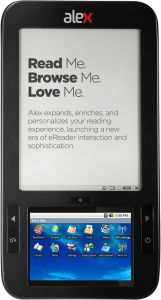 The Alex, by Spring Design is now available for shipping. Alex has been discussed a lot since CES, and it looks like a really good option. Here are the basics:
6″ Electronic Paper Display
3.5″ LCD Touchscreen
256MB DRAM internal, 2GB flash memory
Micro SD slot
Stereo headphone jack, speaker and microphone
Charge via USB cable or power adaptor
802.11b/g Wi-Fi
USB cable, Headphones, and mini USB power adapter included in box
At first glance, the Alex resembles the Nook. The touchscreen display is a half inch bigger on the Alex, though, and it does a lot more. You can extend the e-Ink portion to display on the touchscreen, giving you a larger viewable area. The touchscreen is powered by Android, and doesn't have the limitations of the Nook. You can browse the web, view pictures, find music, and more. You can find ePUB books, search Google Books, and can use Alex partner stores to find content. Your data can be stored on the microSD card so you can take your pictures, music, and books wherever you need to go.
There are three versions of the Alex available. The one currently available (Alex DS-10) is Wi-Fi enabled. This summer there will be a version (Alex DS-11) with EVDO/CDMA and another (Alex DS-12) with HPSA/GSM. By this summer, the Alex will be both Wi-Fi and 3G capable. I am assuming the early version won't get a 3G upgrade though.
You can listen to music while you read, a feature that is particularly nice. You can use the built-in microphone to record your own notes to supplement your annotations. The Alex is also Flash-compatible, so you can watch movies on it too.
The Alex Marketplace is still in development, but by featuring Android, the device will be upgradeable through a number of forthcoming apps. You will still have to enjoy these apps on the 3.5″ screen though, so it may or may not be useful. 3.5″ is about the size of modern smart phones, though newer models are getting bigger.
This is a really solid e-Reader for those who don't want to choose between a tablet or an e-Reader. I like the fact that you can extend the e-Ink screen to the touchscreen. I would hope that the gray-scaling matches or that might be off-putting. The starting price is a little high, considering it came out after the iPad. I still think e-Ink is the way to go for e-books, so hopefully the marketplace agrees with me on that. I think this is a good upgrade for current Nook users. I personally would wait for the 3G version though, and perhaps a price drop. The Alex looks really good right now though, and if I wanted to combine a tablet and e-Reader this is on the list that I would choose from.
As the weeks go by and customers have had a chance to put it through its paces I will take another look at it and see if it is as solid as it appears. Until then, those of you who pre-ordered the Alex, enjoy it. Let me know how it works for you.