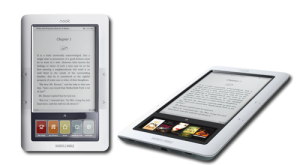 Best Buy is now selling the Nook from Barnes & Noble. The Nook is a standard e-Reader, but has a touch screen navigation. Here are the basics:
6″ e-Ink Display
16-level Grayscale
3.5″ Color Touch Screen for touch navigation
Quick Library View by book cover image
AT&T 3G plus 802.11b/g Wi-Fi
Free Wi-Fi in Barnes & Noble stores
2GB internal memory, expandable via mini-SD slot
Android OS
Interchangeable back cover
Digital Lending
Speakers and Headphone Jack
There are a number of titles available, both free and paid. You can get free content delivered daily to your device. The Nook claims to be the first Android e-Reader, and the first with color navigation. It also boasts compatibility with other systems, including the iPhone and Blackberry. All in all this looks to be a pretty solid device.
One of the interesting features is the combination of Android and e-Ink. The in-store Wi-Fi is another feature I like. Barnes & Noble has encouraged readers to stick around the store by offering comfortable reading areas. This culture is maintained by offering free Wi-Fi. I thought this was a good move on their part. People are used to reading in the stores and would likely want to continue doing so.
I can see why Best Buy would want to carry it in stores, but the online version makes less sense to me. If they are offering the Nook on their website, I would imagine they would want to sell it cheaper than Barnes & Noble. As it is they both offer the Nook online for the same price.
After reviewing the Nook, I think it deserves more press than it previously has received. Assuming its claims are correct, it broke ground on a couple of features, mainly involving navigation. Whether you pick it up at Best Buy or Barnes & Noble, the Nook will cost you about $260. I recommend checking it out and seeing if it is for you. I think it is definitely among the front-runners in the e-Reader Wars.