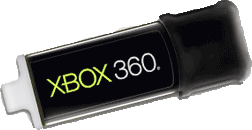 If you've ever been annoyed by the inability to store Xbox data on a USB flash drive, your perseverance has paid off. Xbox.com is reporting that the latest update will allow you to use a flash drive to store data.
According to the website, you can use a flash drive for saving games, gamer profiles, or Arcade games. Of course Microsoft sees a chance for a little more money, and offers a pre-configured device for sale. Otherwise you have to format the drive upon plugging it in for the first time. They sweeten the deal by offering a free month of Xbox Live with the purchase of their drive.
I would rather use my own drive, but it is a little annoying that I would have to format it. Hopefully it doesn't tweak it too much, as I don't necessarily want to dedicate a drive. I'll be testing the feature out this week and I'll post an update based on my experience with the feature.