The e-Readers Wars

While the world is still buzzing about the new iPad's weekend release, we are continuing our series on The e-Reader Wars. Today's topic is the WePad out of Germany.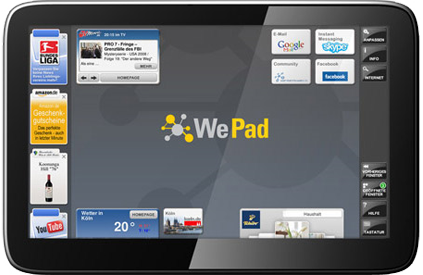 WePad lays out a side-by-side comparison with the iPad on their website. Here is a sample of the areas where WePad beats the iPad.
11.6″ 1366 x 768 Pixel Display
1.66 GHz Intel Atom N450 Pineview-M Processor
1.3 Megapixel Webcam
2 integrated USB ports, Card reader, Audio output,
SIM Card Slot, Multi-Pin Connector
Flash and Adobe AIR
WePad Apps and Android Apps
Multitasking
Supports all open eBook formats plus WeBook premium formats (available Q4 2010)
It looks like the only areas Apple wins in this head-to-head is battery life. The iPad weighs less too, if that is important to you. This looks like a pretty solid tablet. Android Apps are a definite plus. Hopefully this means actual Android Market apps, but if not you can check out some alternatives. Again, this is a tablet, not an e-Reader, but considering it supports open formats for e-books, that is a good start. I am still not convinced that this belongs in an e-Reader category, but as Apple seems to be pushing the concept, and this is the running theme for this series, I am making the comparisons.
The pricing for the WePad appears to be in development stages still, so when a price is published I will post about it. Until then, I think this is definitely a better value than the iPad. Whether it can beat an e-Reader has yet to be seen.