As some of the readers of this blog know, I have been waiting for a long time for a Sony Ericsson Xperia. As I was waiting for the X1 to come down from its ridiculous entry price of $800, I caught wind of a newer Xperia X2. I figured this would surely drive the price down on the X1, but it has remained expensive for over a year now. Part of the problem is that the X2 is still nowhere to be found. While I was waiting for the X2, the X10 was announced. This presented a bit of a problem for me. I had been content to wait out the X1 until it was affordable, willing to forgo the more impressive X2. Both run Windows Mobile. The X10 presented the problem, however. It runs Android. Now I can't see myself buying the X1 knowing that an Android version is coming. There is one problem with the X10 though, no Qwerty keyboard.
I was browsing the Sony Style store during CES and saw a "Coming Soon" for the Xperia X2. I next went to SonyEricsson.com and saw both the X10 and the X2 on the "Coming Soon" list. Of note is the fact that I searched the United States on both sites. The X1 was not initially made available in the U.S. Not only are the phones showing up in the United States search, they are showing up on AT&T network bands. Both show 850/900/1800/1900, which as far as I can tell means both AT&T and T-Mobile can use it. AT&T's announcement of Android phones did not mention Sony Ericsson. Everyone thinks that HTC is going to provide 3 phones, while Dell and Motorola will contribute a single Android phone. All this is of course in the first half of 2010. I didn't see any specific wording that HTC would contribute 3 phones, but I wasn't at CES so I am holding onto hope that Sony Ericsson will provide one of the 5 AT&T Android phones.
AndroidCentral and Engadget both say that Rogers in Canada is getting the X10 in the 2nd quarter of 2010. CNET announced that the X2 is coming in the Spring, though there was no pricing info.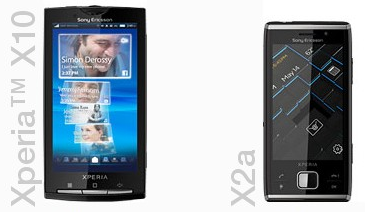 So, at some point it looks like the X10 and X2 will be available in the first half of 2010. There is no indication that I will be able to buy either one from a carrier though, but I wasn't holding my breath. My hope is that the unlocked phones don't cost me as much as a small country. The X2 has already been delayed quite a bit, so I suppose some are still not expecting the X2 any time soon. Perhaps the X1 price will hit bottom when both of these come out. I have been pretty patient so far, so I think I can wait a bit longer.
One way or another, I would really enjoy continuing my tradition of owning Sony Ericsson phones. I would be happy with the Nexus One I think, but I am really trying to hold out for the Sony. We'll see how that goes.