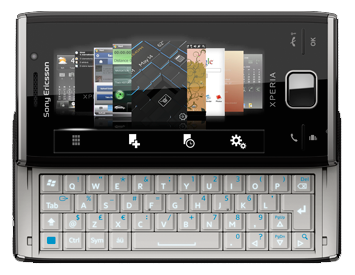 Just in case anyone forgot, the Xperia X2 is the successor to the popular Xperia X1. It is the phone that nobody in the United States has seen, and has only been available in Europe for a short while. The X2 made some major improvements on the original X1, but then it fell into obscurity for months while everyone waited for the release. The X10 was announced shortly after the X2, and got a lot more press because of the Android OS.
The news today is that the X2 just got a firmware upgrade. The new upgrade adds some new features, including support for an FM radio. Let's take a look at what the X2 has to offer.
3.2″, 800 x 480 pixel Touchscreen
110 MB internal Memory, up to 16GB Micro SD
8.1 Megapixel Camera with 16x Digital Zoom, Geotagging support, video light, and more
Stereo speakers, Windows Media Player Mobile, Bluetooth A2DP stereo
Webkit browser
Arc Slider QWERTY keyboard
Micro-USB and 3.5mm Audio Jack connectors
I was really looking forward to this phone until the X10 was announced. I wanted the QWERTY slider that the X10 doesn't have. I want Android more than Windows Mobile, however, so the X10 is the phone I am waiting for. At this point, I may just go for the first one AT&T carries, though I know that I will end up waiting for the X10.
Sony Ericsson is coming up with great smartphones, it would just be nice if they were available in the United States. For those who have the X2 in Europe or elsewhere, enjoy the new update, and wish us well here in the lowly U.S.A. who can't seem to land a Sony Ericsson smartphone.