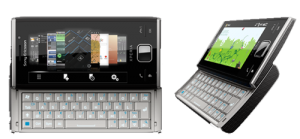 Sony Style USA has announced the pre-order for the Xperia X2a. We've spent a lot more time discussing the X10 here, but the X2a is a really good phone in its own right. Check it out:
3.2″, 800×480 Display
Arc Slider QWERTY keyboard
8.1 megapixel with Auto Focus, 16x digital zoom, Geo tagging, Image stabilizer, Multishot, Picture blogging, Self timer, Smart contrast, Touch focus, Video blogging, video light, video recording
Supports MP4, 3GP, ASF, AVI video
Micro USB connector
3.5mm Audio Jack
802.11b/g Wi-Fi, GSM/GPRS/EDGE 850/900/1800/1900
Windows Media Player 10 Mobile
Bluetooth 2.1 + EDR, Bluetooth Audio Streaming (A2DP)
Stereo Speakers
Includes 4GB microSD card (supports up to 16GB)
That was just the basic list. There are some interesting bonuses too. The Xperia X2a has a TV output option, and includes the cable in the box. It also supports auto-rotate, Bluetooth remote control, Geotagging, handwriting recognition, and more.
The Xperia X1 was a really good phone, but it didn't make it to the US on any carriers. It was ultimately offered by Sony Style in the US for $800. Interestingly, I just discovered it is missing from the Sony Style store. The X2a improves on the X1. It was big news when it was announced, but was quickly overshadowed by news of the Android-based X10. The QWERTY keyboard gives it one advantage over the X10 though.
You can pre-order the unlocked X2a for a much more reasonable $599. The shipping date is listed as on or about April 29, 2010. If you are a Sony Ericsson fan and haven't caught the Android bug yet, this is definitely a great phone. If the X10 hadn't been announced it is the phone I would have picked up for my personal use. As the X2a starts shipping I'll take another look at it and see how the release goes.